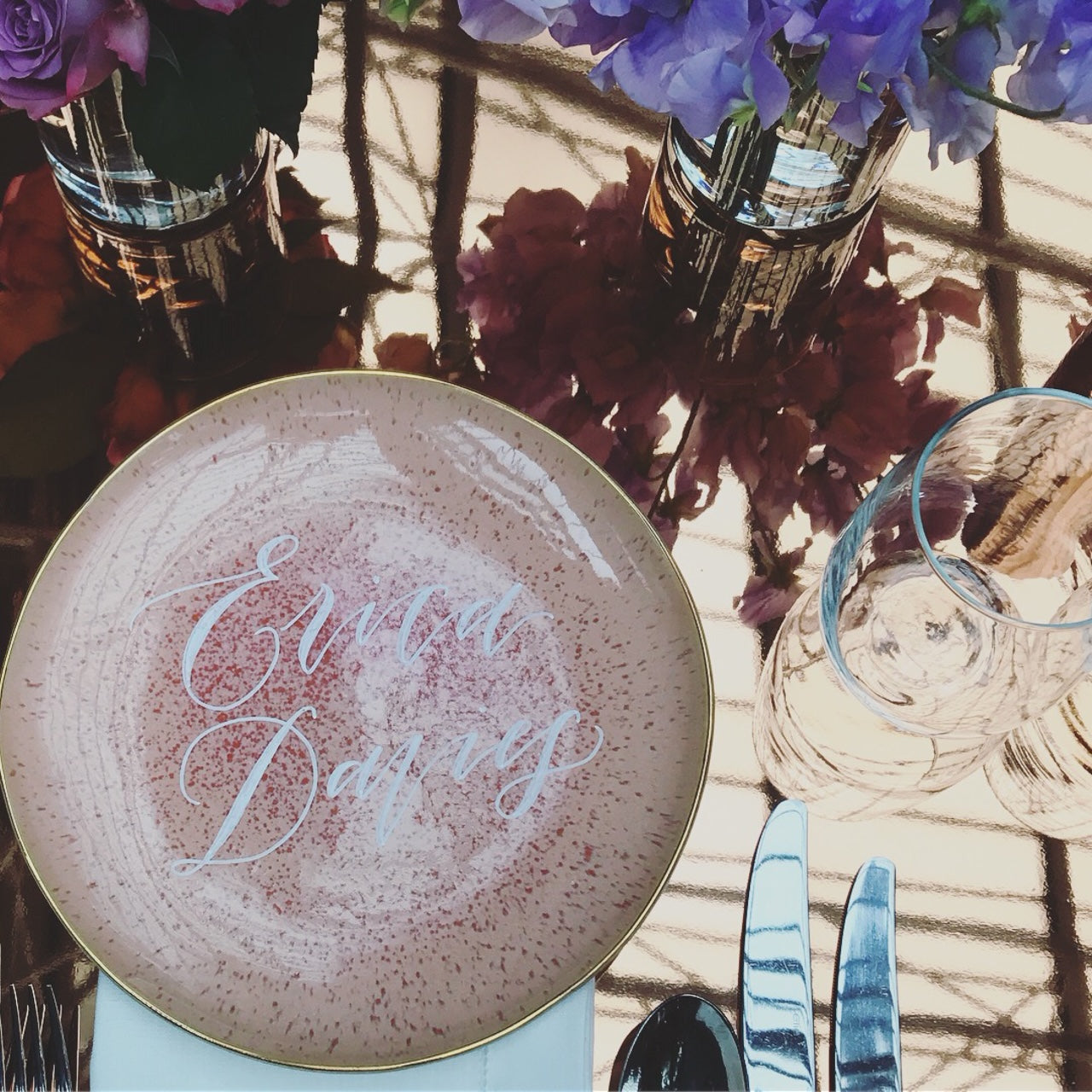 MONICA VINADER 10TH BIRTHDAY PARTY
I'm lucky enough to get asked to work on some really rather special events, one of these was a 10th Birthday party for Monica Vinader to be held at the Barbican. The job started with me being asked to create calligraphy for the menu for the evening which I did, this part of the job was the least intense as I did it from my Leicestershire studio, with a good audiobook on in the background and plenty of cups of tea.
The next part of the job was much more intense, as I made my way to the Barbican on the day of what was to be a HUGE dinner, the team made me welcome and set me up at a table (with gorgeous view of the Barbican) where I had to hand letter over 60 plates, in time for the tables to be laid before the guests arrived...no pressure (these kind of jobs are really rather intense, there's not much time for mistakes and you have to be super focused)  I was also pretty jealous as each guest was being given a plate to take home and they were lovely plates, as well as a mouth-watering menu!
The events team worked really hard and it was a huge success, the set up was incredible, ultra shiny copper tables, dressed beautifully, with amazing floristry too. I managed to get all of the plates done in time, and the tags for the evenings goodie bags. It was a long and pretty full on day, but the results looked awesome, and I can't deny I felt super chuffed seeing the plates and event appear all over Instagram that evening and the next day, as the guests all seemed to be thrilled with what I done. Working on any client brief is always stressful, because whatever I create, all I really want is to do a good job and make my client happy, I had great feedback from this job, which made me very happy. Although I don't think I could cope with the stress of organising big events like this, the logistics of bring it all together would blow my mind I think, but I LOVE to be involved in these kinds of events, as working on site for the set up is always great and I get to meet lots of new people and make new friends.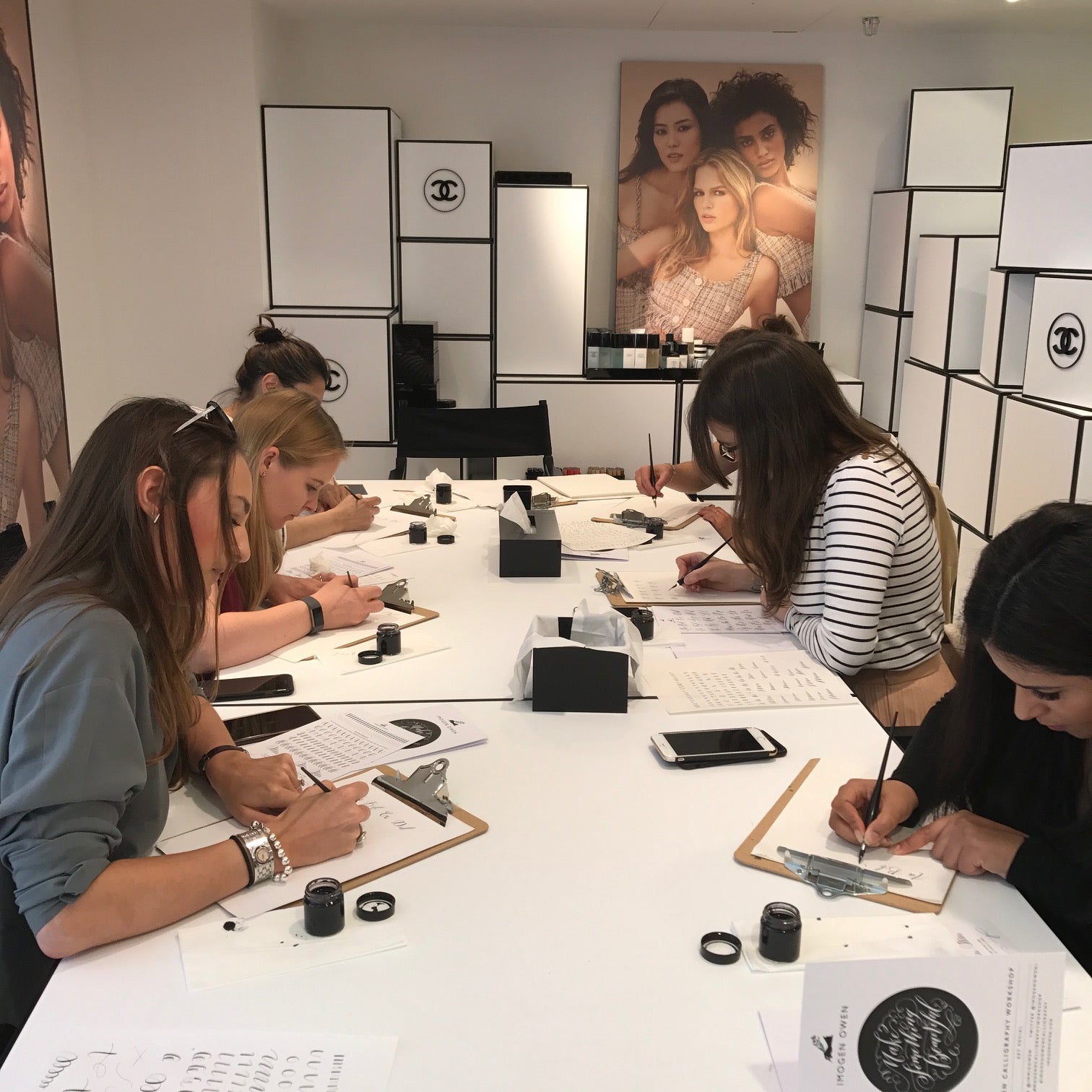 calligrapher life
Working with Chanel on the launch of their awesome Chanel London Studio flagship space has been an amazing experience.
Read more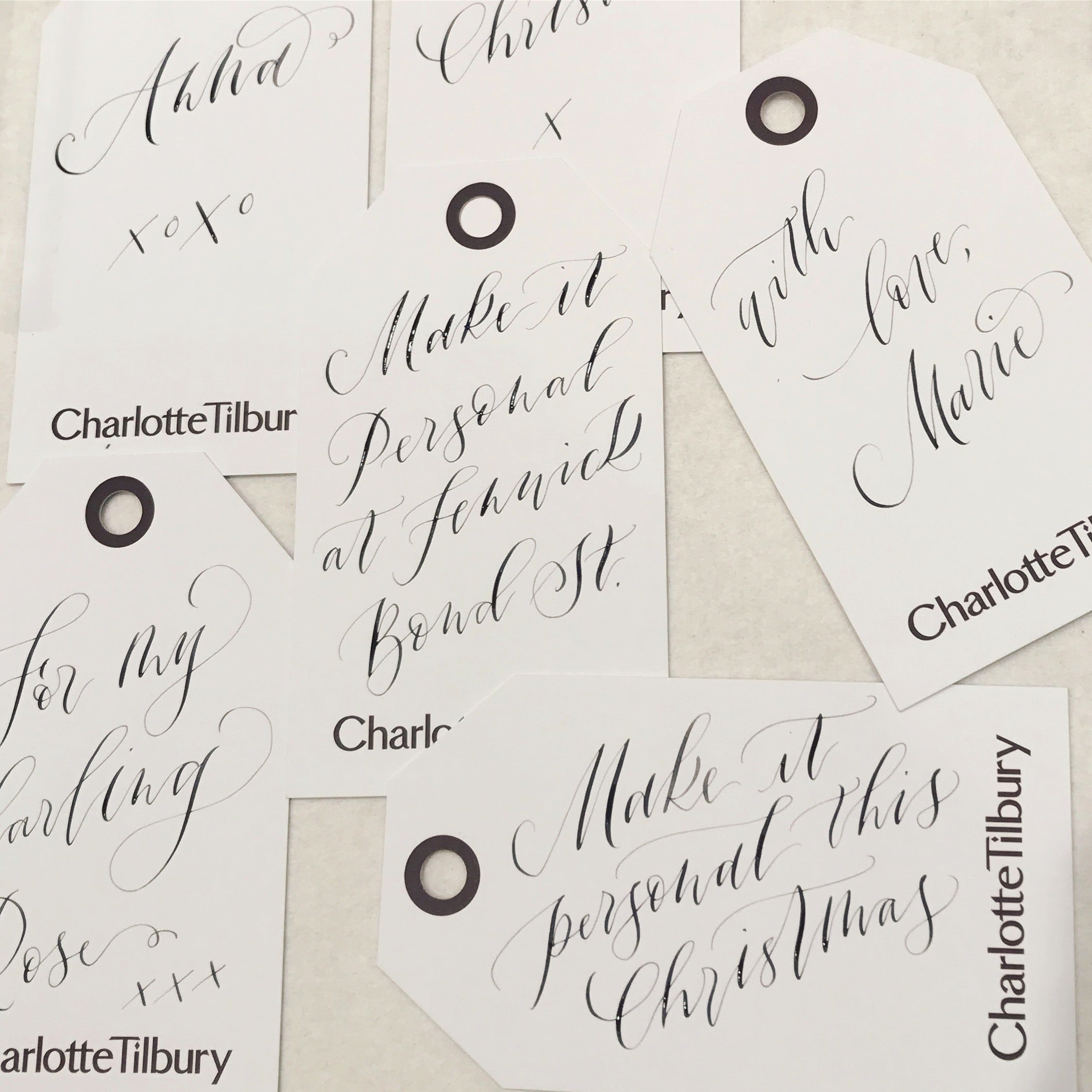 calligrapher life
I've been incredibly lucky to work with some awesome clients over the last few years and one of my regular clients has been Charlotte Tilbury. This has contributed to my growing make up addiction,...
Read more